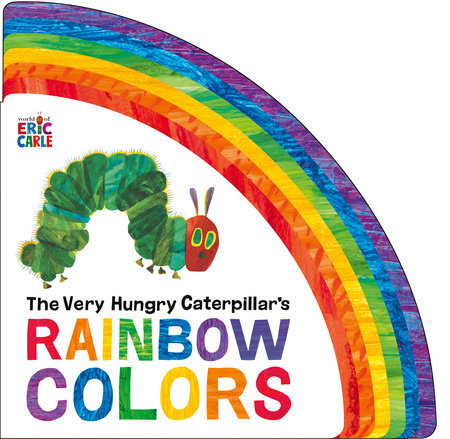 The Very Hungry Caterpillar's Rainbow Colors
Discover the colors of the rainbow with The Very Hungry Caterpillar!
In this delightful board book with rainbow-colored edges, young readers will experience a different vibrant shade on each spread. Find the red ladybug, the green tree, and more in this bright book featuring fun things in every color of the rainbow! 
hardcover, board book
ages 0-3
About the Author:  Born in the United States, Eric Carle was taken as a six-year-old child by his parents back to their native country, Germany. Later, he studied at the Akademie der Bildenden Künste (Academy of Applied Arts) in Stuttgart, and returned to New York in his early twenties as a graphic designer and artist. His many picture books are now known and loved by children around the world.
 
In 2002, Eric and his late wife, Barbara, opened The Eric Carle Museum of Picture Book Art, in Amherst, Massachusetts, where the works of distinguished picture book artists, nationally and internationally acclaimed, are exhibited in three spacious galleries.

All Joy Street prints are hand-drawn and designed by artist & founder Eliza Ferrel. Our super soft and breathable 100% Peruvian Pima Cotton is hypoallergenic and gets softer with every wash.
100% Pima Cotton, super soft and durable
Made in Peru
Machine wash cold
100% cotton typically shrinks about 5% in the wash, mostly in length. Laying flat to dry will help to mitigate shrinking.
Garments fit very snug - we strongly recommend sizing up by +1-2 sizes depending on your preference